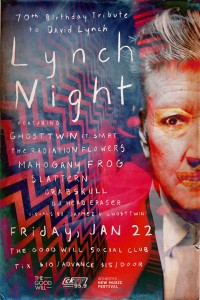 Friday, January 22nd – Lynch Night: 70th Birthday Tribute to David Lynch
Ghost Twin, Mahogany Frog, Slattern and Cantor Dust
I will be joined by JP Perron (The Unbelievable Bargains, formerly of This Hisses) and Scott Ellenberger (Mahogany Frog) to play selections from Wild At Heart.
Good Will Social Club –  9 pm – Tix $10/advance, $15/door – advance tix at Music Trader, Into the Music and online at http://www.ticketfly.com/purchase/event/1019509
February 18th & 19th – Heartache Hotel
The Gas Station Theatre – Doors 7:30 pm – $20 – this event will sell out in advance – get your tix!
Frostbite Circus presents this year's brand new production of Heartache Hotel. Heartache Hotel is a theatrical circus show like Winnipeg has never seen before. Andrea Del Campo, Joe Ackerman and Stephen Halas take us through an eerie old hotel where each room is haunted by incredible acts, puppetry, pole art, contortion, hand balance,aerial, juggling, unicycle, live music, dance, etc. Don't miss out. Some mature content not recommended for small children.